Hey Hey Friends!  Welcome to the middle of the week! 
Did we all survive Halloween weekend?  We actually weren't home during trick or treating in our neighborhood, so I didn't even buy any candy this year.  I'm still trying to decide if that was a good idea or a bad idea.  On one hand, I'm relieved that there isn't a huge bowl of candy sitting in my kitchen for me snack on.  On the other hand, I could really go for a Snickers right now.  Oh, the tough parts of life.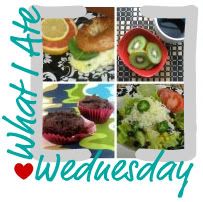 So, I called today my smoothie edition because when I sat down to gather the pictures of my food to share with you, I realized that I had two smoothies today.  I mean, I knew I had two smoothies…although the way my mind has been lately, I wouldn't be surprised if I forgot something like that.  Anyway.  Smoothies seemed to be an integral part of my day and you won't hear a complaint from me!
For breakfast, I had one of my two staples….a bowl of Frosted Mini-Wheats.  I am going to use a recycled picture because I'm pretty sure it looks no different than it did last week…except that I think I packed more in my bowl this time.  I was hungry!
Paired with my frosted gems, I had a mango smoothie that I picked up on my way to work.  The coffee shop on my way to work makes the best mango smoothies.  I very rarely have time to stop anywhere on my way to work in the morning, but when I do, I take full advantage of my extra time!
For lunch, I had a whole wheat tortilla covered in melted cheese and salsa.  Along with that, I had a bowl of cottage cheese and an apple.  This apple was lovingly given to me by my grandmother.  I think that made it one of the best apples I've ever eaten.
My dinner was pretty much fantastic.  You know what made it so fantastic?
#1.  It was lasagna.  Pasta = Happy Kelly
#2.  My police officer made it for me.  No Fuss Dinner = Happy Kelly
I have to say…he did a pretty amazing job!
I finished up my day of eats by finishing off a box of animal crackers. Every time I eat these, which is like once a year, I am reminded that they are the best things ever!
My late night drink was a strawberry smoothie.
frozen strawberries
frozen peaches
strawberry-banana yogurt
vanilla almond milk
Simple ingredients…awesome flavor!
There we go!  My day of eats and my day of smoothies!  If you didn't get enough smoothies from me, I'm sure there are a ton over on Peas and Crayons…so go and check them out!
Do you find yourself eating the same things over and over?
Do you have a favorite smoothie?